About Products

Fast and easy to setup
No poles to carry or erect
Lightweight – Only 5lbs.
2 Large 3-way zipper opens either side
Adjusts to fit many vehicles with an upward-lifting tailgate
Does not interfere with operation of sliding side doors
Are you planning to have a camping trip for spring and summer break with your small family or friend? SUV tents let you get the most out of your vehicle space and creating a comfortable shelter for one or more people. camping tents

Lightweight and durable, this ingenious tent is simple and effective. Compact enough to carry in the vehicle, it will be forever handy for those unexpected occasions when bug free ventilation is desired. With no poles to erect it installs and uninstalls in seconds for that quick lunch break.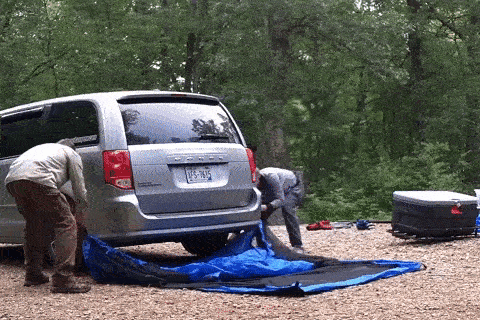 The SUV lift-gate tent is super easy to setup as it uses no poles. You simply attach it to the top of your open rear door on your SUV or minivan and stake the corners into the ground. It's perfect for turning your SUV or minivan into a weekend camper, for use at kids sporting events, use while tailgating, and more.
A large zipper door on the side of the car tent allows you to easily get in and out, and it even comes with a large rain tarp for use when it's raining or when you need some privacy. It can be attached to practically any sized car, SUV, or minivan that has an upward lifting tailgate, plus it won't interfere with your side sliding doors if you happen to use it on a minivan.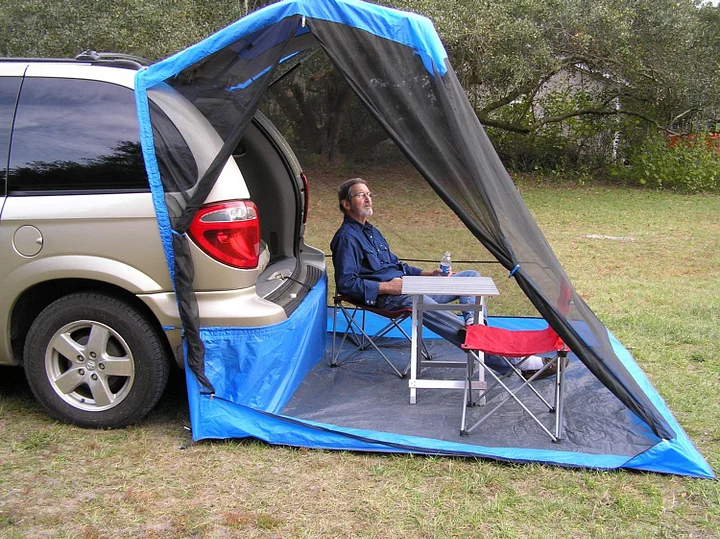 Anti-insect design
Designed to fit the average minivan, its heavy-duty elastic adjusts in height and width to fit most vehicles with a upward-lifting tailgate. Tension buttons hold your initial adjustments in place. It provides a moisture-resistant floor space 6.5 feet wide by 6 feet. Roomy enough for a table and several chairs, its large three-directional zippered opening can accommodate an open playpen, large pet carrier, large coolers and more.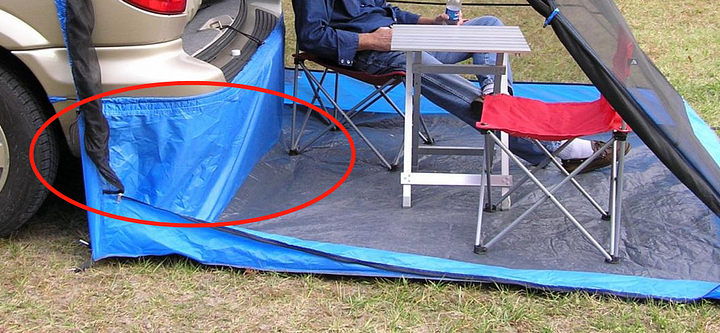 The handy size of the TailgateTent when it's completely folded down fits practically anywhere.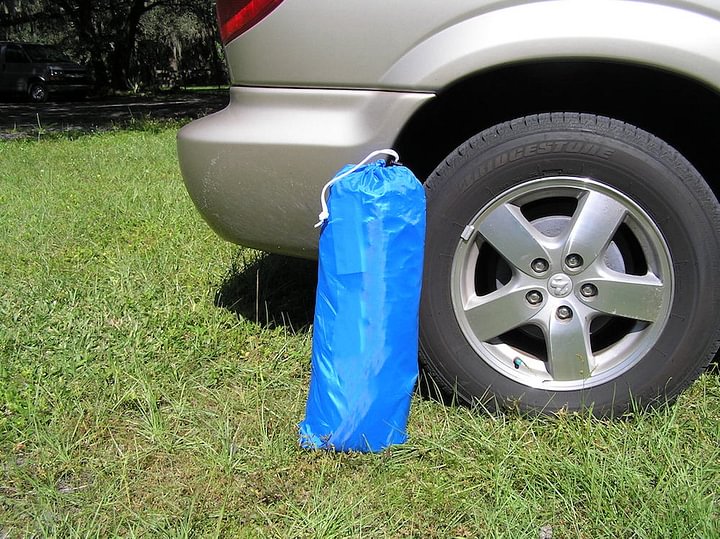 The included rainfly of the TailgateTent will keep you dry in rain, cool in the sun, or give you privacy when you want some.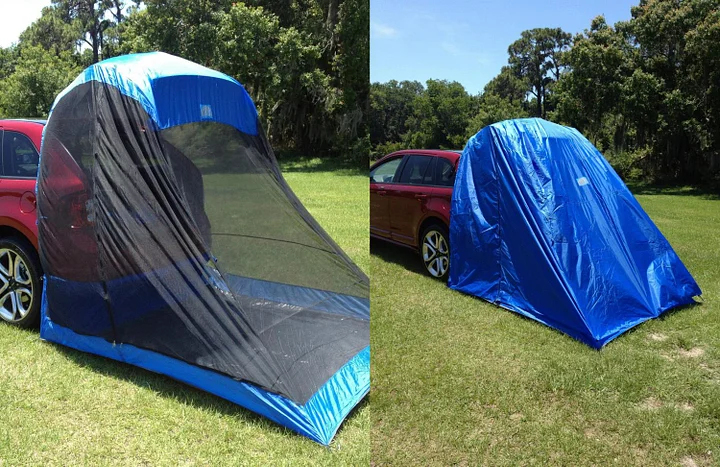 A perfect spot for kids, dogs, or a place to eat!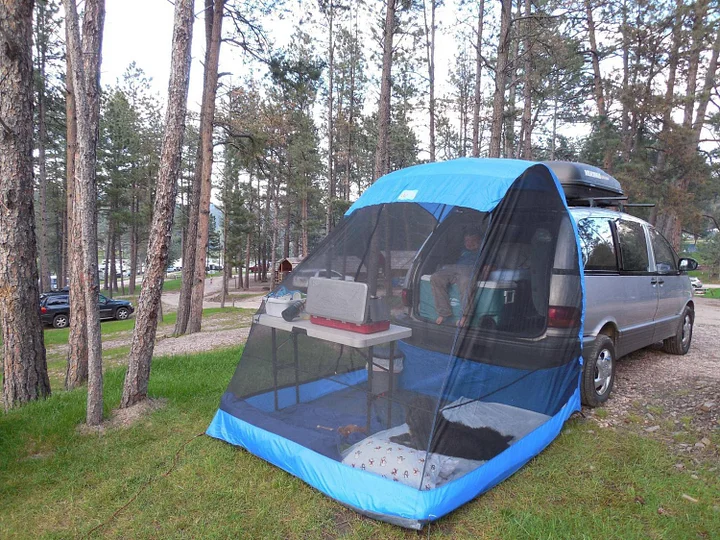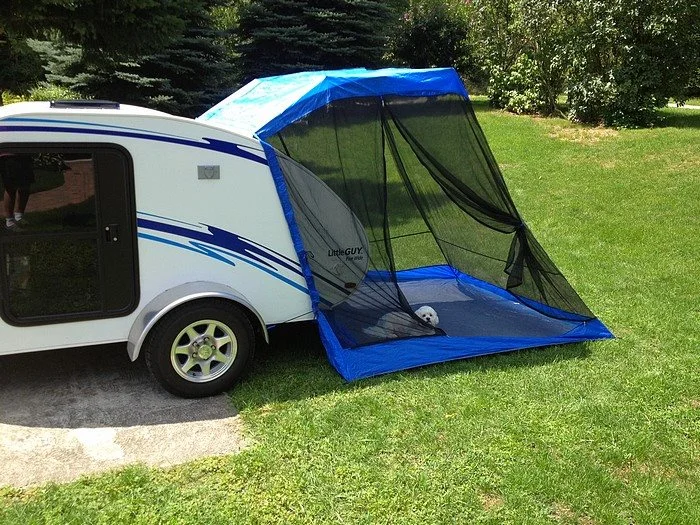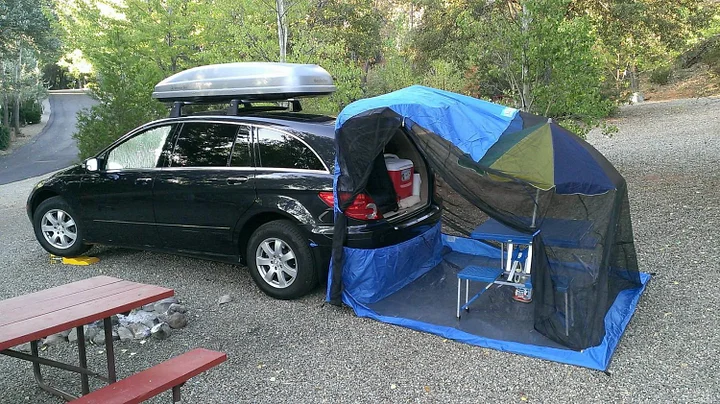 Now you can enjoy more of the great outdoors!
Customer questions & answers

Question 1: The light will go on and drain battery, won't it?

Answer: Most modern cars have a timer on open doors, it just turns off the interior lights.

Question 2: Be sure not to start your car and fill the tent with exhaust??

Answer: The exhaust pipe is outside the tent.

Question 3: So what's to keep the bugs and critters from getting in from under the vehicle? Is there a piece that goes across the bottom where it connects to the vehicle?

Answer: We have an anti-insect design.

Question 4: Will this work on a Ford Escape?

Answer: This applies to most cars, not just suvs.

Question 5: So one you have to buy 2 if want a rain and net?

Answer: Buy 1 can get free rainfly and net.
Package Included:
1×SUV tent
1×Rainfly
1×Storage bag
FREE SHIPPING
Free shipping on all US orders
Satisfied or refunded
If you are not satisfied with the product, then let us know within 30 days of purchase, and we will give you a full refund.
Secure payments
Buy with all safety