Neutralizing The Weight Placed On Your Neck Muscles, Allowing Them To Stretch And Relax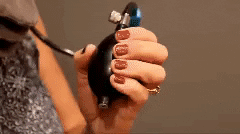 Neck pain is a chronic condition that millions of people struggle with daily. If you're one of them, you know how not only uncomfortable it can be, but also how annoying it is!
How It Works:
Neck pain can arise when there is decreased space between the intervertebral discs, which causes issues such as decreased blood flow and pinched nerves.
ProWellness™ Cervical Neck Traction Stretcher Device handles both problems by neutralizing the weight placed on your neck muscles, allowing them to stretch and relax.
ProWellness™ increases the amount of space between your intervertebral discs, which relieves pinched nerves and encourages better circulation.
A single session provides neck pain relief, and daily use contributes to a healthier posture and alignment of the cervical discs!
Clinical Studies:
Over the years, a vast amount of clinical research has been performed on cervical neck traction.
Clinical studies indicate that cervical neck traction effectively alleviates or eliminates neck pain by increasing cervical vertebral separation.
So, whether you have herniated discs or pinched nerves, ProWellness™ can help you find relief!
Just 20 Minutes A Day:
20 minutes is all it takes! Not only does it deliver neck pain relief, wear the ProWellness™ for pain relief that can last the entire day.
Wear it while working or relaxing, no need to disrupt your daily schedule!
Easy To Use:
ProWellness™ is super easy to use. Just put it around your neck, adjusting to the desired tightness. Then pump until the pillow becomes inflated and takes the pressure off your neck. Sit back, relax, and enjoy!
Adjustable Neck Straps:
ProWellness™ fits necks of all sizes thanks to the adjustable strap system. The Velcro straps allow it to expand and contract as needed, allowing you to get a comfortable and effective fit.
Small Enough To Take Anywhere:
Experience spinal traction at home or on the go, no matter where you are on stiff days. It's soft, lightweight, and small enough to fit in your suitcase, purse, car, or backpack.
Inflatable For Maximum Comfort:
ProWellness™ is easily adjustable, so you can control the amount of air for a comfortable spinal stretch to relax your neck and shoulders. Should fit comfortably up to 17.5" neck size.
Quality Tested:
It is thoroughly tested against the leading traction devices to ensure your comfort and deliver neck pain relief.
---
🚚 Note: Due to high demand, please allow 10-15 business days for delivery.
Many times, your items will arrive earlier! We send all our packages with a tracking number, so you will be able to check it every step of the way!
FREE SHIPPING
Free shipping on all US orders
Satisfied or refunded
If you are not satisfied with the product, then let us know within 30 days of purchase, and we will give you a full refund.
Secure payments
Buy with all safety