Belgian Waffle Maker Commercial Double Waring Breakfast Iron Kitchen Heavy New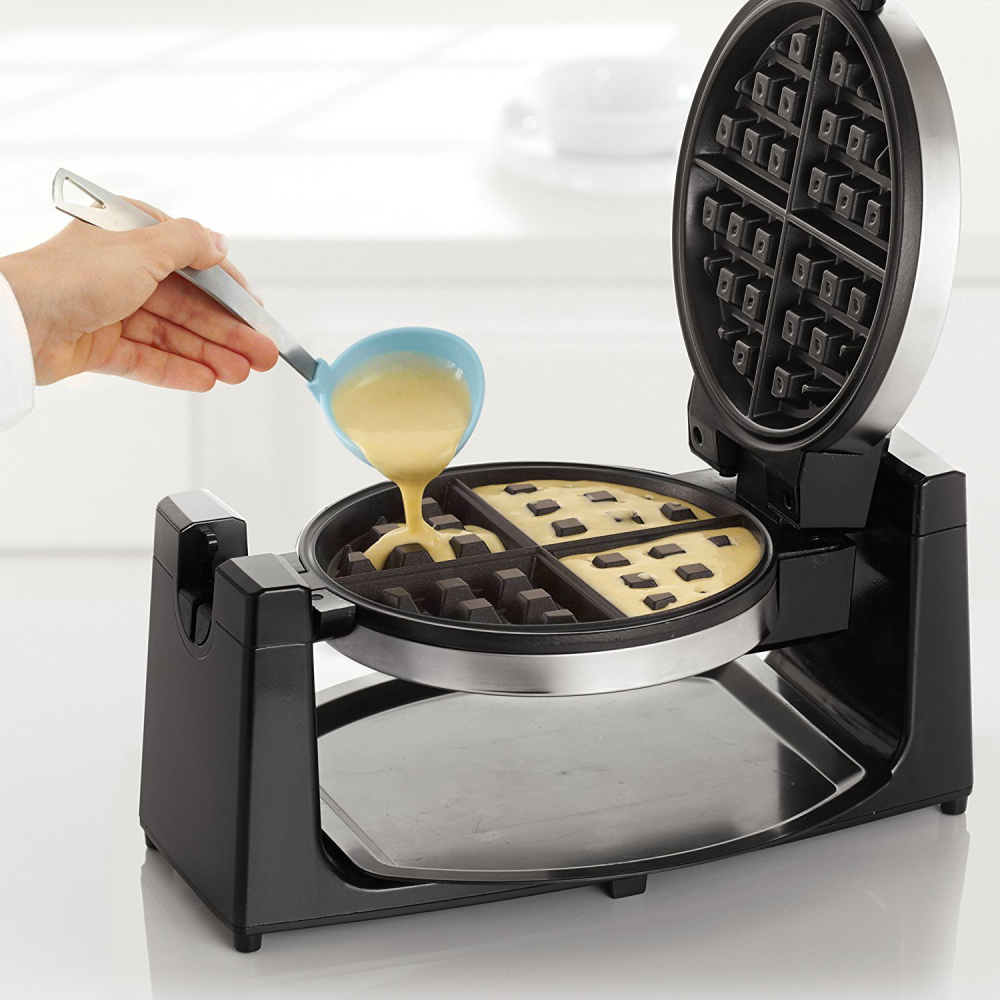 Product Features
Enjoy crisp and fluffy belgian waffles at home in minutes. Works with a variety of batters including wheat and gluten free

The rotating function and cool-touch handle give you consistently even and crisp waffles

The non-stick coating makes cooking a breeze. Allows you to pull waffles out in one piece without sticking

The control knob offers nine precise browning settings to cook your waffle just how you like it

Folding mode allows you to store the waffle maker in any cabinet, nice and slim. Drip tray included for easy cleanup
Product Description
You can always make a flip no matter what side of the bed you wake up on with the BELLA rotating waffle maker. Its innovative rotating function and browning control knob ensure your waffles are cooked to your exact liking. The non-stick cooking plates allow your waffle to be easily removed and ready to eat. The space-saving design with a folding handle allows for convenient storage while the drip tray makes cleaning a breeze.
From the Manufacturer
Enjoy crisp, delicious Belgian waffles made in your own kitchen with the BELLA Rotating Waffle Maker. This streamlined appliance rotates to cook evenly and allows you to adjust cooking time for each waffle. Cleanup is a breeze with nonstick cooking plates and a drip tray to collect extra batter. Try out the recipes provided for a variety of scrumptious waffles.
Rotating Waffle Maker
At a Glance:
Waffle maker rotates to cook evenly
Control knob for precise browning
Nonstick cooking plates and drip tray for simple cleanup
Auto-locking mechanism prevents spills
Folding handle makes storage convenient
Make evenly cooked Belgian waffles with all of your favorite toppings.
Evenly Cooks Belgian Waffles to Desired Level of Browning
With a rotating function that allows for even cooking, the Rotating Waffle Maker produces waffles with uniform crispness. The browning control dial offers nine settings, so you can precisely cook your waffles to the level of darkness you prefer. The Rotating Waffle Maker's ready light indicates when it has reached the proper initial cooking temperature and lights again when your waffle has been cooked to your specification.
Nonstick Surface for Easy Waffle Removal and Cleanup
Waffles come out intact thanks to nonstick cooking plates in the Rotating Waffle Maker. Their nonstick surface minimizes mess left on the plates. Simply wipe the cooled cooking surface with a soft cloth to clean. The removable drip tray catches runoff batter and crumbs.
Auto-Lock and Nonslip Feet Prevent Spills
The auto-locking mechanism holds the waffle maker upright as you pour in batter and locks it closed while it rotates to help prevent spills. Nonslip feet slide open to help prevent accidents on the countertop.
Handle Folds for Compact Storage
The folding handle makes it convenient to store the Rotating Waffle Maker until the next time you crave homemade waffles.
Enjoy Any Waffle Recipe, Any Time You Want
Who says waffles are just for breakfast? With the BELLA Rotating Waffle Maker, you can enjoy fresh Belgian waffles morning, noon, or night, and the toppings options are nearly endless. Go with classic butter and syrup, or try some fresh strawberries of blueberries. For a savory variation, pair your waffles with some fried chicken. Or if you're in the mood for dessert, try chocolate chips and whipped cream.
What's in the Box
Rotating Waffle Maker, drip tray, detachable power cord, and instruction manual with recipes.
Recipe Suggestion: Corn Waffles
2 (8-1/2-oz) packages corn muffin mix
2 eggs
1/4 cup vegetable oil
2 Tbsp. honey
1-1/2 cups milk
1 (15-oz) can whole kernel corn, drained
2 (4-oz) cans chopped green chilies, drained
2 cups grated cheese (American or Monterey Jack)
1/2 tsp. cayenne pepper (optional)
Condition and preheat Rotating Belgium Waffle Maker.
Use a spoon to stir corn muffin mix, cayenne, eggs, vegetable oil, and milk together. The batter will be slightly lumpy.
Stir in corn, chilies and cheese.
Pour approximately 3/4 to 1 cup of batter onto the lower cooking plate. Close the lid, turn the temperature control dial to medium (4) setting, and bake.
When a waffle is done, the top cooking plate should lift easily. Lift the plate gently; if it pulls, continue cooking for 1 minute and test again.
If necessary, adjust cooking dial for future waffle baking and repeat with remaining batter.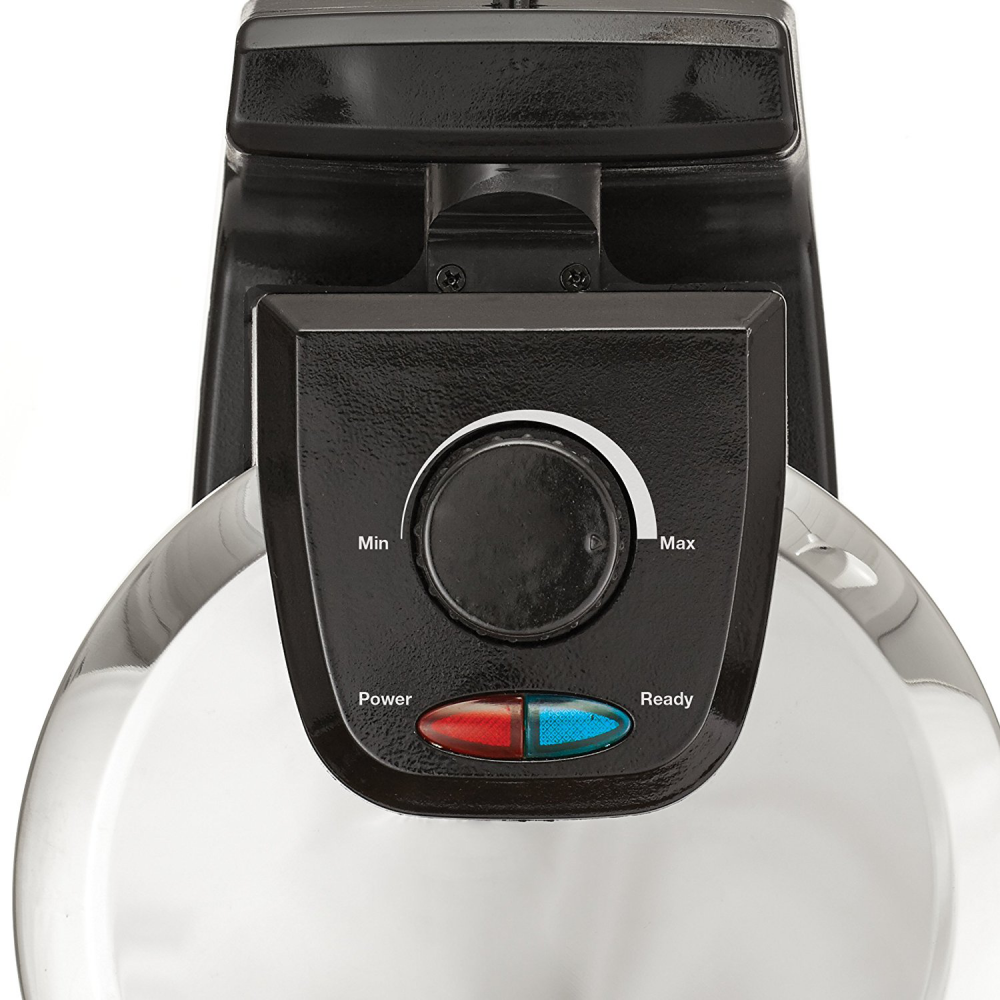 The browning control dial offers nine settings.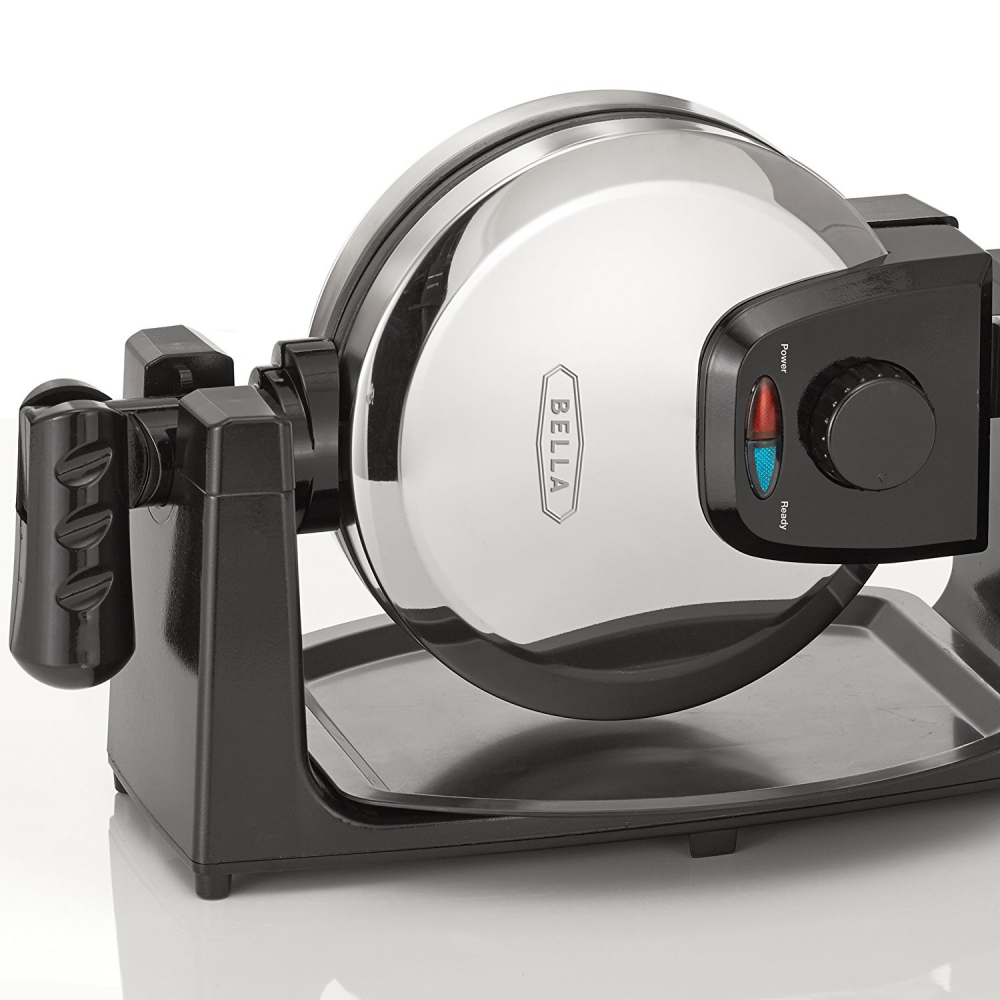 An auto-locking mechanism keeps the lid upright as you pour in batter.
FREE SHIPPING
Free shipping on all US orders
Satisfied or refunded
If you are not satisfied with the product, then let us know within 30 days of purchase, and we will give you a full refund.
Secure payments
Buy with all safety